Welcome to Harrachov – Luscinia guesthouse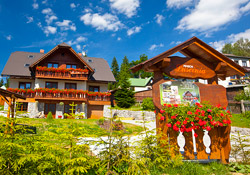 Accommodation in Harrachov
Newly built Luscinia guesthouse with a pleasant family atmosphere offers accommodation in Harrachov mountain resort» (Western Giant Mountains). Rooms are cosily furnished, with own sanitary facilities, in the lounge you can enjoy a rich breakfast or sit by the fireside in the evening. Luscinia guesthouse is located in a calm and sunny place of Harrachov city with beautiful view of Devil's Mountain and ski jumps.
In the proximity of Luscinia guesthouse you will find a big children's pla­yground with climbing frames, playing area for netball with ball kicked across or tennis, restaurants, bars, pizzerias, cafés, shops and rentals of sport equipment (ski, snowboards, mountain bikes), shops with souvenirs, groceries…
Harrachov – winter as well as summer resort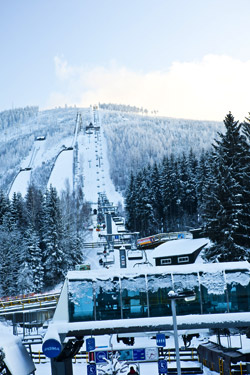 You can come to Harrachov at any time of the year, not only to recharge in the healthy mountain air but also to do sports and have unforgettable experiences from the unique sceneries offered by the surrounding countryside.
Harrachov is also the biggest and most famous centre of winter sports – especially ski flights. Čertova hora ski resort offers excellent skiing and snowboarding for medium-experienced and advanced skiers who can use two four-seat cableways. There are many other ski-lifts in Harrachov suitable also for the beginning skiers and families with children.
In the summer months, Harrachov offers many tourist routes on the ridges of Giant Mountains and Izera Mountain, many cycling routes but also many tips for short trips in Harrachov or its surroundings (Mumlava Waterfalls, top of Devil's Mountain reachable by cableway…).
VMore information you will find at pages of Harrachov, city, current skiing conditions are available at ski portal SKIREGION.CZ.
Sport and entertainment in Harrachov
---
Contact